As screwed up as is our political system, with a President pouting because the leader of Korea called him "old," and with Republicans slowly slouching towards the position that their party ought not to support the Senate candidacy of a constitutional illiterate who once liked to fondle 8th-graders, perhaps it is too much for me to hope that we might come together around one, simple premise, the urgency of which was underscored in this weekend's news: that heavily-armed, militarized law enforcement agencies need to stop gunning down children.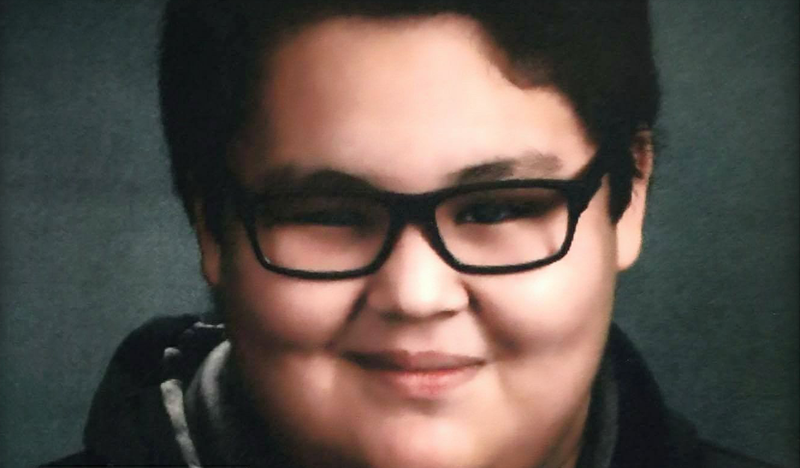 Jesus Tap-Dancing Christ, how freaking hard it is to not kill kids?
You may have seen the story here or here.  Maybe stories like these have become so common that they no longer shock.  Jason Pero, a 14-year old eighth-grader, gunned down by a deputy sheriff.  The Wisconsin Department of Justice released preliminary findings yesterday:
"The Wisconsin Department of Justice (DOJ) Division of Criminal Investigation (DCI), at the request of the Ashland County Sheriff's Office, has been investigating an officer involved death (OID) that took place on November 8, 2017 in Odanah, Wis., which is located on the Bad River Reservation.

The Ashland County Emergency Communications Center received a 911 call reporting a male subject walking on Maple Street carrying a knife. Ashland County Sheriff's Deputy Brock Mrdjenovich responded to the scene and encountered a 5'9", 300 pound male subject who fit the description given by the 911 caller. The subject was later identified as 14-year-old Jason Ike Pero. Pero approached Deputy Mrdjenovich with a large butcher knife and he refused numerous commands to drop the weapon. On two occasions, Pero lunged at the deputy while the deputy was attempting to retreat. Deputy Mrdjenovich fired his service weapon at Pero, striking him twice. Life-saving measures were initiated however, Pero was pronounced dead at Memorial Medical Center in Ashland. DCI has determined Jason Pero was the same person that called 911 reporting a man with a knife, giving his own physical description. Initial information indicates that Pero had been despondent over the few days leading up to the incident and evidence from a search warrant executed on Pero's bedroom supports that information.

Deputy Mrdjenovich has been interviewed by DOJ and is on paid administrative leave in accordance with Ashland County Sheriff's Office's policy. Deputy Mrdjenovich has worked for the Ashland County Sheriff's Office for approximately one year.

The family members of Jason Pero have been offered victim witness services by the DOJ Office of Crime Victim Services.

The Ashland County District Attorney's office will receive the written reports following the conclusion of the investigation. DCI aims to turn over all OID investigative reports to the prosecutor within 30 days of the incident.

The Wisconsin DOJ-led investigation of this incident has been a collaborative effort between DCI, the Wisconsin State Patrol, and the Wisconsin State Crime Laboratory. The Ashland County Sheriff's Office has been fully cooperating with DCI during this investigation.
Jason was a big boy, according to the report, and if he lunged at a deputy that officer might have had reason to be alarmed. But I read that initial statement–the warrant to search a dead child's room, the quick determination about the identity of the 911 caller, the effort to portray this as a "suicide by cop" case–as defensive measures by law enforcement officials  attempting to justify a deputy's violent actions, an attempt to account for what Jason's mother believes is murder.  But even if this report is correct, and I think we all have reason to be suspicious until we learn otherwise, Jason still did not deserve a bullet through the heart.  There were ways this could have been contained.  There were ways this could have been prevented.
Look, at the end of the day I do not care if Jason had a knife. If a handful of deputies cannot take care of a child with a knife through non-lethal means, then they need to find something else to do.  I am not a cop, obviously. But I have kids. Sometimes they do stupid things.  Anyone who has been a teenager or spent time with a teenager knows that their highs can be high and their lows very low. They get depressed and they get despondent.  Sometimes they need help. Jason Pero may have been one of them. Hell, when I was a kid I had moods, too, and I mouthed off to the cops in my comfortable suburb.  But we were white kids, and kids like us do not get killed by police.  I no longer tell my own children, these beautiful young people of mixed-racial heritage, to view the police as their friends. I cannot do it anymore.  I tell them to be careful.  To watch themselves.  To be afraid, because they will hurt you and they will get away with it.
I am not a cop, but I am a historian, so I look at events like the killing of Justin through a very long lens. I do not know much about the specifics beyond what I have read, and I am not familiar with the local history of the Bad River Band of the Lake Superior Chippewa.  I do not know the context. But I am going to watch this case and try to learn more.  And I will keep reading history.  And I know, from my own research and reading, of too many stories where native peoples were gunned down for looking the wrong way at white people in positions of authority.  Murdered for merely existing.  It does not happen as much as it did, say, in the 1790s in the western parts of New York State and northern Pennsylvania, or in Crow Country in the late 19th century–stories you read in Native America. Of course.  But It Is Still Happening. Nobody can deny it. And those of us who study this history, in Canada and in the United States, are talking about it more and more.
The police exist to keep order, and to protect the lives, liberties, and property of white people. You do not have to read a lot of history to know that this is so.  Because white Americans too often view peoples of color and their communities as the locus for criminality in the United States, and they view native communities as centers of dysfunction, desperation, crime, and lawlessness, they react fiercely to any perceived threat.  Even peoples of color away from these communities–on football fields and on college campuses, for instance–are shouted down, cast as menacing or as disloyal, and placed in the position of having to insist that their Black Lives and Native Lives Matter.
It is an old story, and sometimes it wears me down.  Some of my teaching time is spent telling students that it does not have to be this way, that we need not remain prisoners to a shameful past.  But sometimes those words ring hollow.  That is how I feel now.  I understand why parents tell their children to fear the police.  I struggle to suppress my deep revulsion when I see three police cars pulled up behind the vehicle driven by an African-American man in my comfortable Rochester suburb.  The rot runs deep. The killing needs to stop.  Militarized and well-armed law enforcement agencies, I see them in my town where the local police blotter reports on crimes as serious as an occasional broken car window and a stolen I-pod or smashed Jack-O-Lantern.  Everywhere, I sense, police see people of color as a threat, including comfortable Brighton, New York.  What happened in Wisconsin last week can happen anywhere a person of color walks down a street. And from Tamir Rice to Justin Piro, and many others who have not come to mind as I write this post, all I can say is that the police must stop murdering children.